What is the ASC?
The Academic Support Center has several purposes to help students be academically successful at Indian Hills. Teachers may send students to the ASC during class to finish assignments or take assessments as needed. Teachers may also assign students with missing work to attend ASC Lunch, which is a working lunch period in our classroom.
ASC Lunch
If your student receives a ticket that looks like this from their teacher: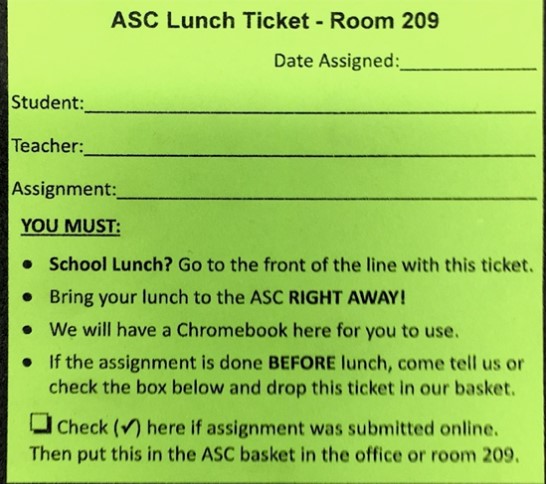 This is what they should do:
Students are assigned for the following day—never for the same day!
If the student is able to complete the assignment at home, they should! Then turn in the green ticket to the office basket or the ASC room (# 209).
Students with the ASC ticket to the front of the lunch line, pick up their lunch, and report immediately to the ASC room.  They SHOULD NOT go to their 4th period to get their Chrome book.
During the lunch period, students work on homework for which they were sent to the ASC while eating lunch.
Homework completed in ASC is shown to an ASC aide.
If students do not finish their assigned work, the students will complete the assignment at home that evening OR the next day in ASC lunch.  If the assignment is not turned in the next morning to the ASC box in the attendance office or room 209, the student will have to attend ASC lunch.
Once the assignment is complete the student will be excused from ASC lunch. The students should not be turning in "ASC" assignments to their teachers.