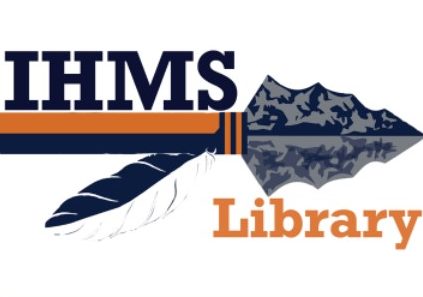 The following are IHMS Library's policies that are defined by the Canyons School District's policy linked above:
Students may have 

four

library books out at once
Students are given 

14 school days

for each book check out
Each checked out book will have a bookmark with the due date on it
Students will be required to pay for the replacement of any lost or damaged books
Students may place up to 

three

holds on book titles that will be checked out to the student and delivered to the student when the book is available
If a student needs more time with a book, they will need to renew the book in the library — a book with a hold placed on it by another student may not be renewed
IHMS Library's Vision Statement:
To investigate means to search into the unsure and master the undetermined.  The library will be a safe space for ideas, information, reading, and resources to come together – a place of connection between thoughts and actions from the classroom to the real world. Together we will accomplish today's tasks and tomorrow's challenges by looking at the information available.
IHMS Library's Mission Statement: 
As the center of investigation and reading, we will connect staff and students to books, information, resources, and ideas that directly tie to the curriculums built and taught by our community to continue in the warrior way.  The library will partner with staff to support our school's students in the classroom, library, and the digital world.